Guidelines for Women to be safe "Janani"
The country has been shaken with the death of the rape victim "Damini". The Government is yet to take up any action on the accused and still deciding on what case needs to be filed against them. Protest are going on all over the country with Bangalore citizens showing their grief in various parts of the city and at Freedom Park.

Finally Karnataka State Police has met up with some Women Organization, students, employees, NGO's and many individuals with Do and Don'ts for women. The guidelines/ draft copy will be made available by Monday called "Janani".

How to be safe and protect yourself


Carry Pepper Spray

Don't add strangers to social networking sites. Though networking sites themselves caution users, there are complaints of women being harassed online.

Report Vehicle number of eve-teasers near school and colleges to police.

Dont reply to strange number or missed calls.

When an autorickshaw, car or any vehicle stalks, move to a crowded place.

Don't allow strangers to take your photographs in shopping malls.

Don't accompany strangers to parks, movies and restaurents

Don't accept food and drinks from strangers

Report persons moving from suspiciously around the house to police

Don't open doors to strangers.

Transport vehicles belonging to IT, ITES firms should be GPS fitted

Companies should provide elaborate security for women working night shifts.

Women's paying guest hostels should be registered.


There will be many more guidelines issued by the Karnataka State Police in order to protect women from any kind of nuisance and eve-teasing across the state and city.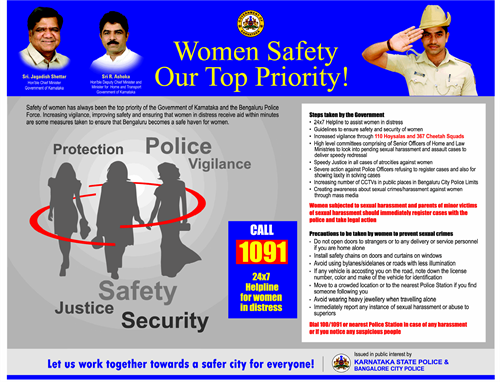 Please leave your comment in the comment box below