Ananth Kumar Political History

Ananth Kumar is the next chief minister candidate for the Karnataka state. He is been inspired by ideas and hard work that he has done for the development of the party in the state and is also an integral party in the Karnataka Politics.To know more about Ananth Kumar


Ananth Kumar is one of the candidate who may be the next Chief Minister of the Karnataka State

Ananth Kumar is elected as MP from Bangalore South Constituency of Karnataka and also an integral party of state and center BJP party.

Ananth Kumar is born on 22nd July 1959 to H N Narayan Shastry and Smt. Girija in Bangalore. He has completed education in Arts from KS Arts College in Hubli and also law from JSS College. He is also a voluntary member of RSS.

He is one of the strong contenders for the Chief Minister post in the state and some party member are not in favour of the same. Ananth Kumar, holds a strong position in BJP Karnataka and also influenced party members with ideology of RSS and he himself choose to be a part of ABVP. He has spent
some of days in jail during the emergency period.

Ananth Kumar had quick political growth with becoming the Secretary of the Karnataka and then National Secretary in 1985. He completed his gradudated the Akhil Bharatiya Vidyathi Parishad and joined BJP. After which he was nominated as Yuba Morcha State President. From there Ananth Kumar increased his activity in the politics and become National Secretary.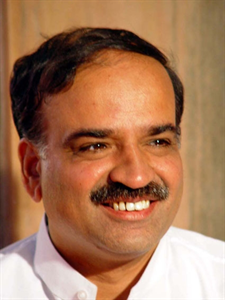 Ananth Kumar did play a key role in raising and fighting for the RamJanmabhoomi cause in the state. He was elected as MP in 1998 and took over as Civil Aviation minister in the Central. During his tenure, he has also handled Tourism, Sports, Youth Affairs and culture, Urban Development and Poverty Alleviation.

Some of key Political Careers of Ananth Kumar:



Secretary, Akhil Bharatiya Vidhyarathi Parishad (A.B.V.P.), Karnataka : 1982-85

National Secretary, A.B.V.P. : 1985-87

Secretary, Bharatiya Janata Party (B.J.P.), Karnataka : 1987-88

General Secretary, B.J.P., Karnataka : 1988-95. National Secretary, B.J.P. : 1995 -98


Elected to the 11th Lok Sabha


Member of the Governing Council Indian Institute of Science, Bangalore,

Member of the Parliamentary Consultative Committee, Ministry of Industry.

Member of the Parliamentary Standing Committee, Ministry of Railways :


Elected to the 12th Lok Sabha (2nd term)


Union Cabinet Minister, Civil Aviation; Additional charge, Ministry of Tourism.

Elected to the 13th Lok Sabha (3rd term)


Union Cabinet Minister, Culture, Youth Affairs and Sports; Tourism and Culture and Urban Development & Poverty Alleviation with additional charge of Rural Development : September

President, Bharatiya Janata Party, Karnataka


Elected to the 14th Lok Sabha (4th term)

Chairman, Committee on Coal & Steel; Member of the Parliamentary General Purposes Committee. Member, Business advisory committee

National General Secretary, Bharatiya Janata Party

Chairman, Parliamentary standing committee on Finance


Elected to the 15th Lok Sabha


Chairman, Committee on Chemicals and Fertilizers, Member, Committee of Privileges, Rules Committee Chairman, Committee on External Affairs


To know more Ananth Kumar

List of Karnataka Chief Ministers